May 29, 2014
News Coverage of Jack Nicklaus Visit to Potomac Shores
Coverage Report as of May 23, 2014
May 22, 2014 – VirginiaVirtucon.Wordpress.com – Jack Nicklaus Inaugurates Potomac Shores Golf Club; Boosts First Tee Program
May 22, 2014 – GolfAdvisor.com – Capital achievement: At long last, Nicklaus opens Potomac Shores Golf Club near Washington D.C.
May 22, 2014 – GolfChannel.com – Golf Advisor: Potomac Shores debuts in D.C.
May 23, 2014 – PotomacLocal.com – Nicklaus: We Need More Children in Golf


May 22, 2014 – Golf Advisor.com – Capital achievement: At long last, Nicklaus opens Potomac Shores Golf Club near Washington D.C.
DUMFRIES, Va. — In front of a small gathering of onlookers, Jack Nicklaus leaned down to tee up a ball for a ceremonial first tee shot at Potomac Shores Golf Club before pausing.
"You know, this was supposed to be in 2007," he remarked. Alas, Potomac Shores finally opened to the public this month, about seven years and one new owner later than it was supposed to.
Evidenced in part by the opening of Potomac Shores, the country's golf course real estate business has a pulse again. One need not drive long on I-95 before seeing droves of new construction popping up all around and realizing: investment is back in the Beltway. Nicklaus spent his morning on Capitol Hill in hopes of keeping it that way. As part of National Golf Day, he lobbied Congress on behalf of the First Tee, the third time he's done so. He's has taken on the game's growth conundrum with campaigns such as S.N.A.G. and Nicklaus Learning Leagues, promoting the First Tee and everything from 12-hole golf courses to events with larger holes.
"You've got to introduce kids [to golf] at a young age," Nicklaus said. "Then, at a certain age they're going to come back to it."
Reborn facilities like Potomac Shores, or other revived Nicklaus designs like Reflection Bay in Nevada (which after a multi-year closure is on the comeback trail) will be relying on the efforts of Nicklaus and the game's governing bodies to help fill the tee sheets of the future.
In 2009, around the time real estate was hitting rock bottom with the golf course business right there with it, developer SunCal began the process of purchasing the 1,920-acre Potomac Shores development out of receivership. In 2012, they turned their attention to the forgotten golf course.
David McGregor, superintendent of Potomac Shores, was hired at that time to bring the course back to life, and summed up his initial inspection as a "scary" one.
"It was overgrown," McGregor said. "Zero definition. Bunkers were gone. Cart paths weren't completed. It was 75 percent finished."
After Nicklaus spent the morning on Capitol Hill, which included Congress passing a vote to award him a Congressional Medal of Honor, he made the drive down to Potomac Shores where he would meet McGregor and tour the course for the first time since 2006.
While the grass has grown in beautifully and on-course amenities like comfort stations and cart paths are all complete, Nicklaus was quick to point out after the inspection that, in his eyes, the design was only "98 percent" done.
"We have a golf course that never opened and never got finished," he said. "We're just going to finish up the little things. When we build a golf course we like to stick with it."
Nicklaus said some of the greens that were molded later in construction weren't finished before construction was halted, and certain grading areas and drainage basins needed to be addressed. McGregor said Nicklaus spent his time with him constantly talking about how the course would manage the load of a full tee sheet.
"[Nicklaus] very much understands it's a public golf course and wants it to be a success," McGregor said. "The amount of times we stopped in an area and he asked 'how is this pinning area, how is pace of play, how is this pinning area? Is it fair?'"
Potomac Shores Golf Club: The course
Managed by Troon Golf, Potomac Shores is the only public-access Nicklaus Signature design in the Beltway. It fills a nice niche in the area for upscale, daily-fee golf (green fees peak out at $115 on weekends). The takeaway after an initial round is that it's a hilly trek with lots of elevated tees and holes encircled by dense forest. Shorter par 4s tend to head uphill (there are a handful longer hitters could reach off the tee), while some longer holes, such as the 575-yard par-4 10th, trudge downhill from tee to green. On the par 3s in particular, paying attention to the elevation change and the depth of the pin is essential.
"It's a challenging piece of property," said Nicklaus, whose team had to wind the course around environmentally protected areas, not to mention all sorts of other hazards like power, sewer and gas lines. "If you can make it aesthetically pleasing, that's what the golfer really likes."
As a result of the severity, it's nearly impossible to walk, with some long, steep drives between holes. The yardage is a very early 2000s-esque 7,020 yards from the tips (four sets of tees total up to 4,940). Sheer brawn isn't really needed here, especially if the fairways run as firm as they are now, but the greens are undulating, fast and at times elevated. Sand traps are certainly plentiful and there isn't much rough before steep slopes lead to native grasses and deep trees (there was no course slope/rating at the time of opening).
The 8,000-square-foot clubhouse, molded in the style of a classic Virginia estate, is fully operational and gorgeous. The lobby is particularly inviting, as is the outdoor fire pit overlooking the 18th green. The full property, while still sparsely developed (the master plan includes 4,000 home sites), has pockets of homes popping up. A hotel next to the course is planned for the near future, as is a leisure club.


May 22, 2014 – GolfChannel.com – Golf Advisor: Potomac Shores debuts in D.C.
It took an extra seven years, but Potomac Shores Golf Club just outside Washington D.C. is officially open for play.
Jack Nicklaus, architect of the course, attended the grand opening following a morning spent on Capitol Hill lobbying Congress.
Brandon Tucker has the story on GolfAdvisor.com, as well as how the course fits into the Northern Virginia golf scene.


May 22, 2014 – VirginiaVirtucon.Wordpress.com – Jack Nicklaus Inaugurates Potomac Shores Golf Club; Boosts First Tee Program
By Riley, Thursday, May 22, 2014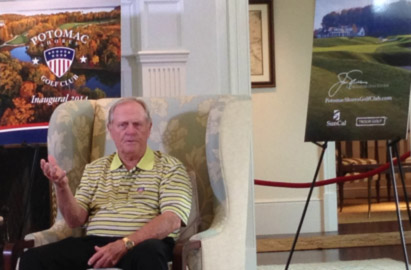 One of golf's two living legends, Jack Nicklaus, visited Prince William County May 21 to inaugurate the new Potomac Shores Golf Club. Potomac Shores is an 18-hole, par-72 Jack Nicklaus Signature Golf Course, a designation that indicates his deep involvement in all design aspects of the course. Mr. Nicklaus made site visits during various phases of the course's construction going back almost a decade.
Upon arrival at the course yesterday, Nicklaus visited each hole to inspect the work. At the following press conference, he indicated that work was 98% complete on the course, but there are a few tweaks that he still would like them to make over the next year or so in order to further improve play.
In discussing the 5,389 to 7,156 yard course itself, Nicklaus spoke about the property being hilly with more than 200 feet of elevation changes and the various environmental restrictions in place. Those challenges proved to be an opportunity that enabled them to create a course that Nicklaus described primarily as two things – "tough and fair."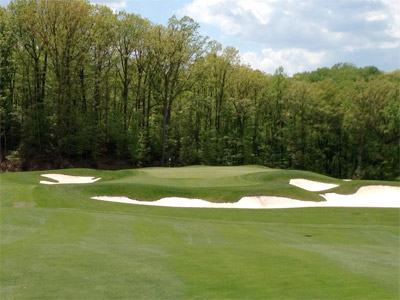 Nicklaus said that his definition of a good golf course is not one that the U.S. Open could be held on, but one that facilitates what the people using it want to do whether it be a community, a private club or a resort. He reflected on what it was like to return to a golf course that had never been finished and see that it had grass on it.
"My job was to create an aesthetically pleasing course with great shots and that is what we have done here. We've created a golf course of quality that people can enjoy and that serves the community," said Jack Nicklaus. "The course has beautiful terrain. Beautiful vistas and a certain wow factor," he added.
"As with golf itself, it took patience and perseverance to build this course. It took a long time to finish, but it was worth it." said Nicklaus.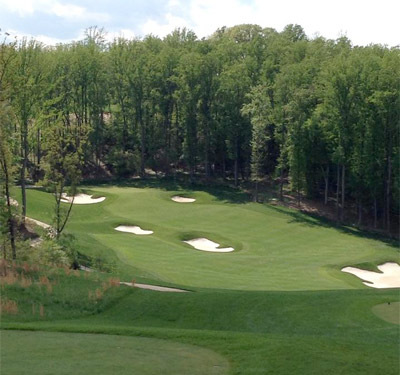 Earlier in the day, the 18-time major winner was on Capitol Hill in Washington, DC to celebrate National Golf Day and promote First Tee, the program that brings golf to youngsters from ethnically diverse backgrounds. Since its start in 1997, ten million kids have gone through the program.
Nicklaus spoke at length about First Tee during his press conference at Potomac Shores where he discussed how the program has helped disadvantaged kids by giving them the opportunity to learn the game of golf and through that the lessons of life. He gave a few examples of specific kids who have participated and gone on to become everything from congressional staffers to medical students. Following the press conference, Nicklaus was set to tee off with a young girl from the First Tee program on the Potomac Shores course.
The Potomac Shores Golf Club features a new 8,000-square-foot clubhouse where residents and visitors can relax and dine in the Tidewater Grill and purchase items from the pro-shop. The clubhouse features an outdoor brick patio complete with a fire pit overlooking the 18th green.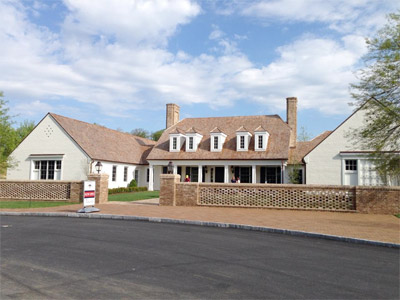 Residents of Potomac Shores and its neighboring sister community Southbridge enjoy a 15% discount off of the published green fee, seven days advance tee time bookings, use of the practice facility before their round of golf, and a 10% discount in the golf shop on non-sale merchandise and in the Tidewater Grill (food only). Potomac Shores and Southbridge residents also have the option to purchase an Annual Golf Pass at a reduced rate. The 2014 Annual Golf Pass includes unlimited golf (a cart fee of $20+tax is payable per round), 14 day advance tee times, discounted green fees for up to three accompanied guests, unlimited use of practice facility, USGA handicap service, and a 15% discount in the golf shop on non-sale merchandise plus special events.
Potomac Shores is the region's first luxury resort master-planned community. It is situated on 1,920 acres and features nearly two miles of shoreline and a traditional Virginia Tidewater design. The transit-oriented community will offer a town center, marina and waterfront village, future on-site Virginia Railway Express station, corporate campus, private 10,000-square-foot recreation center, two public schools, more than 15 sports fields and courts, walkable neighborhoods, over 3,800 residences and 10 miles of trails.


May 23, 2014 – PotomacLocal.com – Nicklaus: We Need More Children in Golf
PRINCE WILLIAM COUNTY, Va. – Potomac Shores new golf course has been christened by the golf icon who designed it.
Jack Nicklaus came to the new 18-hole, 72 par course at the end of Potomac Shores Parkway near Dumfries on Wednesday. The course has been in the works since 2001, but financial troubles from the previous property owner during the financial crisis delayed its opening until this month.
Nicklaus said he designed hilly course with a large residential course with the community in mind, and is one of 290 courses designed by Nicklaus. It is open to the public.
"My goal is to try to create an aesthetically pleasing course with good golf shots," said Nicklaus.
Over the past decade, Nicklaus said he's seen more golf courses closed than opened. But that is changing with the proliferation of more First Tee programs that aim to get more children involved in he game. In addition to good golf, the program teaches the nine core values of the game to include honesty, integrity, and respect.
"If you look at the patterns of kids today, parents are taking them all to parks. You can go to every park in this town and every other town and parents who were playing golf on the weekends are now at parks, and they've got their five, six, seven, eight, nine, 10 year olds playing soccer and football," said Nicklaus.
The pro player visited Congress before coming to Potomac Shores on Wednesday to promote First Tee programs and attracting youth to the sport.