January 23, 2013
Potomac Shores golf course slated to open this summer
By Aileen Streng
Prince William Today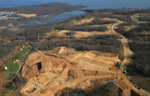 A concrete sign the development of the Cherry Hill peninsula is moving forward will be the opening of the Potomac Shores Golf Course this summer.
"It is the one thing I am most asked about," said Eddie Byrne, vice president of Project Management for Argent Management, the developing arm of SunCal, during a recent presentation to the Dumfries Town Council.
SunCal is developing Potomac Shores, previously known as Harbor Station, on the Cherry Hill peninsula. The 1,900-acre mixed-use development will include 4,000 homes, a town center, office space, a Virginia Railway Express station, a marina, possibly a five-star hotel and the much anticipated Jack Nicklaus golf course.
The golf course was completed several years ago but never opened in large part due to the downward turn in the economy and the hiatus of active building of the project.
"The course was maintained but still needs a little work," Byrne said.
SunCal has been working over the past year to get the fairways back in shape, rebuilding the sand traps and greens.
"The plan is to open it probably late summer," Byrne said.
SunCal broke ground on the 7,000-square foot clubhouse last month and should be complete in August, Bryne said.
"Jack Nicklaus designed a course that is challenging, fun and set in spectacular surroundings," said SunCal Senior Vice President David Soyka during the groundbreaking, according to a press release.
"The course's design has a European flavor to it, and features a hardwood forest outline, dramatic vistas, rolling greens and holes along the Potomac River and Powell's Creek," Soyka said.
The 18-hole course is a par-72 that offers four sets of tees with a total distance ranging from 5,389 to 7,156 yards.
"It will be a fun course for all of the golfers in the community to play. It will be challenging, but we've been working to make it a little bit easier to play," Byrne said. "We all are certainly not Jack Nicklaus."
The Potomac Shores Golf Course will be open to the public.