August 03, 2011
SunCal buys Harbor Station
By Jeff Clabaugh
Washington Business Journal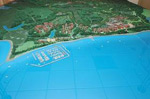 California development company SunCal Cos. has acquired Harbor Station, a master planned community in Prince William County that stalled during the recession.
Irvine-based SunCal bought the development out of receivership; Wachovia Bank held the note and had the property with Compass. The Washington Business Journal reported in June SunCal was the leading contender to jump-start the project. Financial details were not disclosed.
Harbor Station is one of the few remaining large, undeveloped parcels along Interstate 95. It is zoned for residential, commercial and hospitality development, and includes Potomac Harbor Golf Course, a Jack Nicklaus designed course.
"We're very excited to be involved with this special property that is located in a spectacular waterfront setting and is planned to offer a mix of residential, commercial and recreational uses," said Casey Tischer, vice president of land acquisitions for SunCal. "We understand the importance of Harbor Station as a destination community, and we're looking forward to working with the county and area residents as we develop the site."
McLean-based Kettler Inc. invested $200 million in the project until the recession hit. It had tried to reclaim the property but was unable to make a deal.
Harbor Station's plans are approved for up to 4,000 residential units and 3.7 million square feet of commercial uses.
SunCal has about two dozen communities in California, as well as residential projects in Arizona, New Mexico and Nevada. The company recently opened a New York office to focus on East Coast expansion.