November 19, 2012
SunCal moves forward with massive mixed-use project in Prince William County
Virginia Business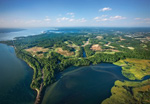 In its first project on the East Coast and in Virginia, California-based SunCal is moving forward with plans for a massive 1,980-acre mixed-use project on the banks of the Potomac River in Prince William County.
The site includes two and half miles of river frontage and has been approved for a new Virginia Railway Express commuter rail station. Zoning would allow up to 3.7 million square feet of office/commercial development and 3,987 residential units.
"This is a fantastic piece of property," Casey Tischer, vice president of eastern region acquisitions for SunCal, said in an interview about what is one of the few remaining large, undeveloped tracts along Interstate 95.
The project, formerly known as Harbor Station, was started by McLean-based Kettler Inc., which invested about $200 million in the project until it was stalled by the recession. SunCal acquired the property in August 2011 for a reported $55 million after it went into bank receivership.
SunCal has rebranded the community as Potomac Shores. Casey says construction is under way on Phase I of what could be a $2.5 billion project that could take as many as 10 years to build. By mid-2013, SunCal plans to finish improvements to a Jack Nicklaus- designed golf course that Kettler built, build a golf course clubhouse, get the first part of the residential units under way and complete some of the town square features.
The VRE station is supposed to be located in the middle of the town center. It would be financed primarily with federal funds. According to Casey, the station is not expected to open until 2017.
While SunCal has no plans to change the project's approved density, "We are moving the deck chairs a bit," said Casey. "We want to condense some of the uses and expand the town center."
The company is seeking an amendment to the property's rezoning so it can relocate some of the property's uses. SunCal also plans a marina and a hotel and spa, to give the area – 30 minutes from Washington, D.C. – a resort feel.
Phase 1 of the residential area will include 879 single-family homes. More than 300 of those sites have been sold to NRV, a Reston-based, residential developer. Later on, Casey says SunCal plans to add townhomes, apartments and condominiums.
The company has a New York-based hedge fund equity partner, which Casey says is assisting with financing, although he would not disclose the fund's name. Virginia Commerce Bank in Chantilly is providing some of the construction financing. SunCal has retained Hart Howerton Ltd. as the project architect.
The Irvine-based company has developed more than a dozen mixed-use projects in other parts of the country. In addition to its headquarters in Irvine, Calif., SunCal has offices in New York and Washington. D.C.