June 11, 2013
SunCal reveals pricing for Potomac Shores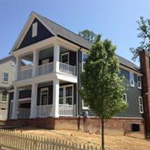 SunCal Cos. is seeking buyers for the first phase of homes at its Potomac Shores resort community in Prince William County, with prices starting in the low $500,000 range.
The developer revealed the price ranges for the first 371 homes to be developed at the 1,920-acre mixed-use community in Dumfries, which includes an 18-hole Jack Nicklaus Signature Golf Course. According to SunCal, the homes will range from a little more than $500,000 on up to the $800,000 range.
SunCal broke ground on the $250 million-plus development in summer 2012 after acquiring the stalled project from Wachovia Bank for about $55 million. The developer is hoping to appeal to vacationing golf enthusiasts, empty nesters and other house hunters that want to live near, but not in, the District. Potomac Shores is about 30 miles from D.C.
Homebuilder NVR Inc. is developing the home sites, which will open in six neighborhoods later this year. NVR is rolling out several different housing types as part of its Ryan Homes and NVHomes brands, including 169 Fairways Shore home sites starting out in the low $500,000 range. On the high end of the scale, NVR is building 82 Fairways Overlook home sites, with prices starting in the $800,000 range.
Daniel J. Sernovitz covers commercial real estate.